Before proceeding further, to the solution to open damaged or unsaved MS Excel document. Let's know the major reasons that why .xls file got corrupted. Some of the reasons are listed below:
Power shutdown
Operating System issue
Virus or any malware attack
Bad sectors in the storage media
Hard Drive corruption
Manual Approach to Fix The file is corrupted and cannot be opened Error
There are several errors that a Microsoft user may encounter while accessing an Excel spreadsheet. Now, to resolve and fix all such errors try the following manual solution.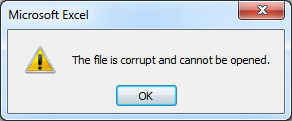 Use "Open and Repair" Option to Open Crashed or Unsaved Excel 2016, 2013, 2010, 2007 Versions
In some cases, XLS file is damaged/corrupted in such a way that even Microsoft Excel is not able to open it easily. But, it is not lost completely and can be repaired using an inbuilt Open and Repair tool. Follow the steps given below to access a crashed Excel file:
Open Microsoft Excel.
Now, click on the File >> Open option.
Note: MS Excel 2007 does not contain File tab. So, click on the Office button and then click the Open button.
Now, browse to the location of the file or folder where Excel workbook is stored.
Note: Do not open the Excel spreadsheet directly from the Recent section as it can't be opened into the Open dialog box.
Select the damaged Excel file you want to open >> Click on the drop-down arrow next to the Open button >> Select Open and Repair option.
Well, we have also come up with an optimum solution to fix the above-mentioned The file is corrupted and cannot be opened Excel file error. Read the next section to know about this appropriate approach.
Sometimes MS Excel file is infected with some major corruptions, that even the above manual solution doesn't work for that. So, to overcome some of the limitations like time-consuming process, doesn't works for highly damaged documents, etc. it is suggested to use a relevant third-party tool to fix this error in Excel file. The Excel File Repair Software is such a high-tech algorithm that removes the error: The file is corrupted and cannot be opened Excel 2016, 2013, 2010 2007, 2003, 2000, and any other kind of corruption from the XLS file.